Premier Hard Surface Fabrication and Installation
high-quality, custom-made STONE
Welcome to Stanley's Marble and Granite, where we specialize in crafting and installing high-quality, custom-made hard surfaces. With our extensive experience in the industry, we're here to help you bring the beauty, functionality, and long-lasting durability of natural stone to your home or business.
Why Choose Stanley's Marble and Granite?
Over 20 years of experience in the industry

Unmatched craftsmanship and attention to detail

Highly trained, professional installation team

Exceptional customer service and support

Competitive pricing for quality materials and services

Locally owned and operated

Fully licensed and insured
CUSTOM FABRICATION
Our skilled craftsmen meticulously tailor each piece to meet your specific needs and style preferences. We use state-of-the-art equipment and advanced techniques to ensure precise cuts and seamless finishes.
PROFESSIONAL INSTALLATION
Our team of experienced team ensures your stone is perfectly installed for a flawless fit. We take care of every detail, from measurements to adjustments, so you can enjoy your new space without any hassle.
WIDE RANGE OF MATERIAL CHOICES
We offer an extensive selection of premium quality materials. With a vast array of colors and patterns to choose from, you can create the perfect space that complements your interior design.
EXPERT CONSULTATION
Not sure which material or design to choose? Our knowledgeable staff is here to help you make an informed decision. We'll guide you through the process, discuss your design goals, and suggest the best options to suit your needs and budget.
MAINTENANCE AND CARE TIPS
At Stanley's Marble and Granite, we want your stone to maintain its natural beauty and durability for years to come. Our team will provide you with expert advice on proper care and maintenance, ensuring your investment stays looking its best.
using stone in your home or office
countertops
Most homeowners choose to incorporate natural stone in their countertops. Stones like granite, quartzite and porcelain are great for kitchen countertops specifically because they can take a lot of abuse. You may have to seal them, but they will reward you with a long life span and natural beauty. Natural stone is resistant to heat and scratches, plus it's easy to clean and lends an elegant look to your kitchen or bath.
Full Height backsplash
Full height backsplash is a perfect way to upgrade the look of your kitchen or bathroom. With minimal grout and easy cleaning, you'll get a stunning, classic finish that enhances the surrounding décor. Our team of experienced professionals can help you create an effortless transition from countertop to full height backsplash for a truly unique design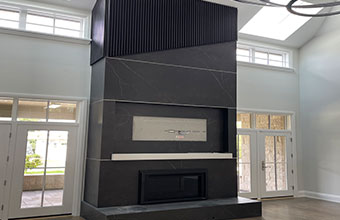 fireplace
A warm and inviting living space awaits with the addition of a fireplace to your home! Whether you choose to treat yourself to an original cobblestone design or opt for a more economical route by adding rock veneer over existing framework, nothing quite matches the feeling of cuddling up in front of a beautiful mantel.
sinks
Upgrade your bathroom or kitchen with a natural stone sink for both added functionality and beauty! A number of options are available with soapstone being a great choice, as it won't be affected by etching, staining, chipping or heat – providing you and your family many years of reliable use in those high-traffic areas.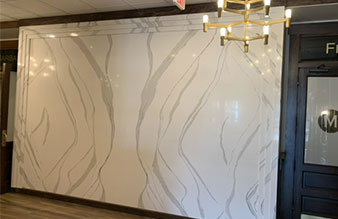 feature wall
Natural stone is the perfect addition to any feature wall, bringing life with its majestic backdrop. With options of earthy marbled veins or neutral textures – you can create a gorgeous accent that will give your space an exciting and unique aesthetic appeal!
Shower Panels
Shower panels are a great way to make a statement in your bathroom. Not only do they come in a wide variety of designs and styles, but they also offer the advantage of large format tiles that limit grout lines and create a continuous pattern which can help to enlarge the room. They are easy to install, easier to clean and maintain.
Transform Your Space Today!
Let Stanley's Marble and Granite create a stunning focal point in your kitchen or bathroom with our expertly crafted and installed natural stone. Contact us today for a free consultation and estimate. Give your space the elegant and durable upgrade it deserves.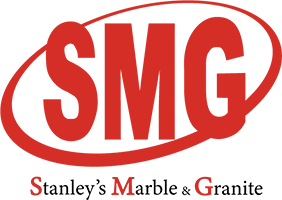 8606 Beloit Ave, Bridgeview, IL 60455